Sandy Krishnan
Founder
CLICK HERE TO VIEW DETAILS
"GREENERY IS THE EVIDENCE OF GOD"!!!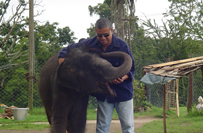 From the time of my memories, it is always the Nature that I found easy to connect with and relax! When growing up small nature trips within the then Madras was possible though trekking and hiking were out of boundaries by our parents. But the wild life movies (Hatari, African Safari etc.,) and certain magazines like (Ambuli Mama) etc., that depict wild life stories were always my best companions!
My best-attracted animal is and still my favorite is the one and only "The Elephant"!
My grandma used to say that I would refuse to alight from the Elephant when I was put up on the head during the temple festivities. I cannot wait to see an elephant passing by when I will call the Mahout and bring them in front of our home and my parents particularly my Grandma would come out shaking her head with coins and some sweets of jaggery for both the elephant and mahout and more to please me!
My teenage period gave me a little bit of freedom and I used to frequent "Kodai" with hiking and enjoying the nature and bonding up particularly with the Western Ghat's beauty. I used to trek to Toda betta whenever I was in Ooty and visit with the tribes with a keen interest to know their life style. In due course I used to frequent the Western Ghats with one pretext or other and luckily God sent similar mind set of people who have taken me to places of virgin Nature/forest with the stories of how the elephants were being butchered for the Ivory and the pitiable life style of the tribal.
It was shocking news to me when I learned that we now have only 33,000 of this great species left in India when I decided that I should get involved somehow in protecting this mammoth animal and also contribute my mite in preserving this forest at this point of my life. Also thought that it is time that we bring awareness with the people and particularly with this younger generation how our "Lives" are well connected in preserving the forest by way of Bio-Diversity and the reasons for uplifting the tribal way of life that will lead to reducing the conflicts between the Man and the Animal!
Again Ari and his friends was God sent who have furthered my joy with the nature and thus opening up the practical hurdles that prevails in the Bio diversity areas. I saw the dedication in the team and decided it is now or never!
Frequent interactions made me to create IAWS with a sole aim to preserve the biodiversity of the forest and protecting the Wild Life and in Particular to Elephants with a duty and love to this beautiful forest!!!
I strongly believe that our mottos and services should be beyond our lives benefiting the Society and the Earth and that is the only precise aim in creating... IAWS!
Sandy.
Quote: "If you think about all the gains our society has made, from independence to now, it wasn't government. It was activism".
Unquote:
Dr. C. Arivazhagan
Managing Trustee
CLICK HERE TO VIEW DETAILS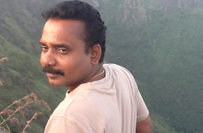 Ari has completed his Masters degree in Wildlife Biology and Ph.D., in Zoology at A.V.C. College, affiliated to Baharathidasan University, Tiruchirapalli. He did doctoral degree is on the "Population dynamics of Asian Elephants in Southern India". He started his carrier as a cat man, worked on leopard human conflict in Western Ghats., later switch over elephants. He worked as a project Assistant and Project Co-coordinator in various projects at Centre for Ecological Sciences, Indian Institute of Sciences, Bangalore from 1998 to 2008. His keen interest in this mammoth animal took him across the country into study of in depth on their behavioral patterns. He has guided many masters' students on various aspect of Wildlife Biology and he is nick named as "Elephant Whisperer"!
He is also a member of Asian Elephant Specialist Group (IUCN). Presently he is executing handful of Eco related projects for Indo-American Wildlife Society, Chennai spear heading as a Managing Trustee. He has published twelve-research papers, written one book and 15 interim reports on various aspects of Ecology and Conservation. He has headed many government and corporate projects in the across the country. His primary interest is to conserve the landscape of the forest and save flagship and Keystone species, animals irrespective of the borders.
Dr. R. Sivakumar,
MD., Trustee
CLICK HERE TO VIEW DETAILS

Dr. R. Sivakumar, MD., Int. Medicine & Cardiology is one of our Trustees and a great wildlife enthusiast. Despite his busy schedule with Apollo and Fortis hospitals apart from his busy consulting schedules, he finds solace in his Bonsai garden duly created by him and his paintings on the landscapes should be admired as well! He is primarily involved in providing free medical camps and consultations in tribal areas for IAWS.
He has received "The Best doctor" award from Governor of Tamilnadu/India during 2012.
K. Sreevats
Trustee
CLICK HERE TO VIEW DETAILS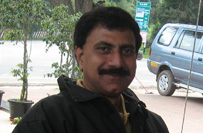 K. Sreevats, Trustee who is a wildlife enthusiast with phenomenal interest in aspects pertaining to Wildlife conservation & Eco tourism. He has served as Manager Plantations with the Birlas at Gudalur before starting his own venture at Chennai and is into Property consulting and advisory for High Networth Individuals in Chennai apart from developing farms and gated communities in the periphery of Chennai.
Almost 50 years old, K. Sreevats is contemplating early retirement to devote maximum time to IAWS activities for obtaining meaningful tangible results in accordance with pre conceived targets and objectives.
Dr. B. Ramakrishnan
Trustee
CLICK HERE TO VIEW DETAILS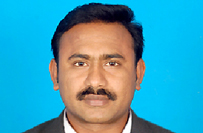 After a Great stint in the wild life field in almost all over the western Ghats and rubbing shoulders with the Tribal and the animals ( His rubbing the head on with the Wild Konna, a buffalo landed him in a bush that saved his life), Ramki is now settled with his long time desire to teach wild life Biology!
He is now an Assistant Professor in Wildlife Biology, Department of Zoology & Wildlife Biology, Government Arts College, Udhagamandalam, Nilgiris. He has obtained his Masters Degree in Wildlife Biology and Ph.D. in A. V. C. College, Bharathidasan University.
He has worked as a Research Fellow in Salim Ali Centre for Ornithology & Natural History, Coimbatore (1995 to 1998). He has submitted his doctoral dissertation on "Significance of corridors to Asian Elephant and strategies for conservation and management". He has also worked in WWF and WTI in several research projects. He has published 13 research papers in national and international journals and two books. He has participated in several national and international symposia, seminars and workshops. He recently played a key role in organizing a Wild Life Seminar cum conference for the south by inviting all NGOs under the auspices of Tamilnadu Forest Department.
He now plays a key role in close coordination with Ari and parts his expertise both by knowledge and helping the IAWS team by guiding them physically at the field.
Dr. P. Nehru
Associates
CLICK HERE TO VIEW DETAILS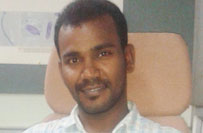 Agriculturist by birth and vegetation ecologist by profession Dr. Nehru Prabakaran has earned his PhD in Botany from a renounced institute Salim Ali Centre for Ornithology and Natural History (SACON). His major area of expertise is angiosperm taxonomy and vegetation ecology.
Nehru is a distinguished student during his graduation studies at Madras Christian College, Chennai where he was awarded with Edward Barnes Gold Medal and Prof. K.A.K.A. Ganesan Prize. After his graduation he worked with NGO's in Chennai as a Botanist and contributed in many of their projects as a plant expert.
His contribution to the studies on Sustainable harvest and population dynamics of Indian Gooseberry an important NTFP of Sathyamangalam Wildlife Sanctuary and the Biodiversity of Nanmangalam Reserve Forest, Chennai are noteworthy.
He joined in SACON as a research fellow (2009-2012) to work on a challenging project "Monitoring the succession of coastal vegetation impacted by the tsunami in Nicobar Islands". This particular work was acclaimed by the subject experts across the world and was presented in international conferences at New York, USA and Galle, Sri Lanka. Later he worked with The Himalaya Drug Company, Bangalore as a Research Scientist for a year where his work on the authentication of herbs won him the Junior Scientist of the Year award. His photography skills have twice won him awards in international events. He has 11 research articles and three books to his credit.
Dr. Nehru is currently a Leibniz-DAAD Post-Doctoral Fellow at Leibniz Institute of Tropical Marine Ecology at Bremen, Germany. He is playing a key role in almost all our projects as a on and off field plant expert.